Solutions
Ultrasonic Obstacle Avoidance Sensors
Customer Ask: Obstacle Detection & Avoidance
The customer is a material handling company. They needed a sensor for their automatic stretch wrapper. The sensor is mounted under the conveyor section of the stretch wrapper. It is used to detect a forklift which is loading and unloading material from the conveyor. The sensor may need to detect the black tires on the fork truck or the front of the truck, which might be a dark target from dirt and grime. This was just one of the reasons why photoelectric sensors would not work in their application.
Application Requirements:
A sensor with a wide sensing beam pattern
An operational range of 80 inches
A sensor that is not affected by dark colors
A self contained sensor
A large tilt angle
The sensor must have an adjustable delay off feature
The Migatron Solution
Our experts recommended the RPS-150DC-80DF sensor for its wide beam spread, reliability, adjustability and price were the main reasons the customers selected Migatron over the competition.
Did You Know:
Ultrasonic Sensors offer your customers a non-contact method of detecting presence, level, volume, proximity and distance measurement.
Migatron's ultrasonic sensors are superior to other sensor technologies. This is because Migatron's ultrasonic sensors work well in harsh environments, they are more reliable, adjustable and need little or no maintenance.
Learn More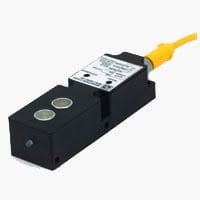 Customer Satisfaction
The delay-off feature was particularly suited to the customer's application. The delay-off response time and can be adjusted by the customer from 0.12 seconds up to 4 seconds. The delay-off feature confirms for the customer that the fork truck is definitely out of the target area.
Combining the delay-off feature with the sensors ability to detect a target that tilts as much as 35 degrees, provided the customer with a long sought after solution to his application problem.
The RPS-150DC-80DF Features:
A sensing range of 5" to 80" which meets the customer's need for a sensing range of 80".
A wide sensing beam, which can detect a flat target that tilts up to +/- 35 degrees
LED indicator, for ease of set up and monitoring
Short circuit protection
Reverse polarity protection
2 solid state relays N.O. & N.C.
Adjustable Set Point
Adjustable Delay-Off (DF)
A Quick Disconnect (QD) connector