Solutions
Ultrasonic Conveyor Speed Control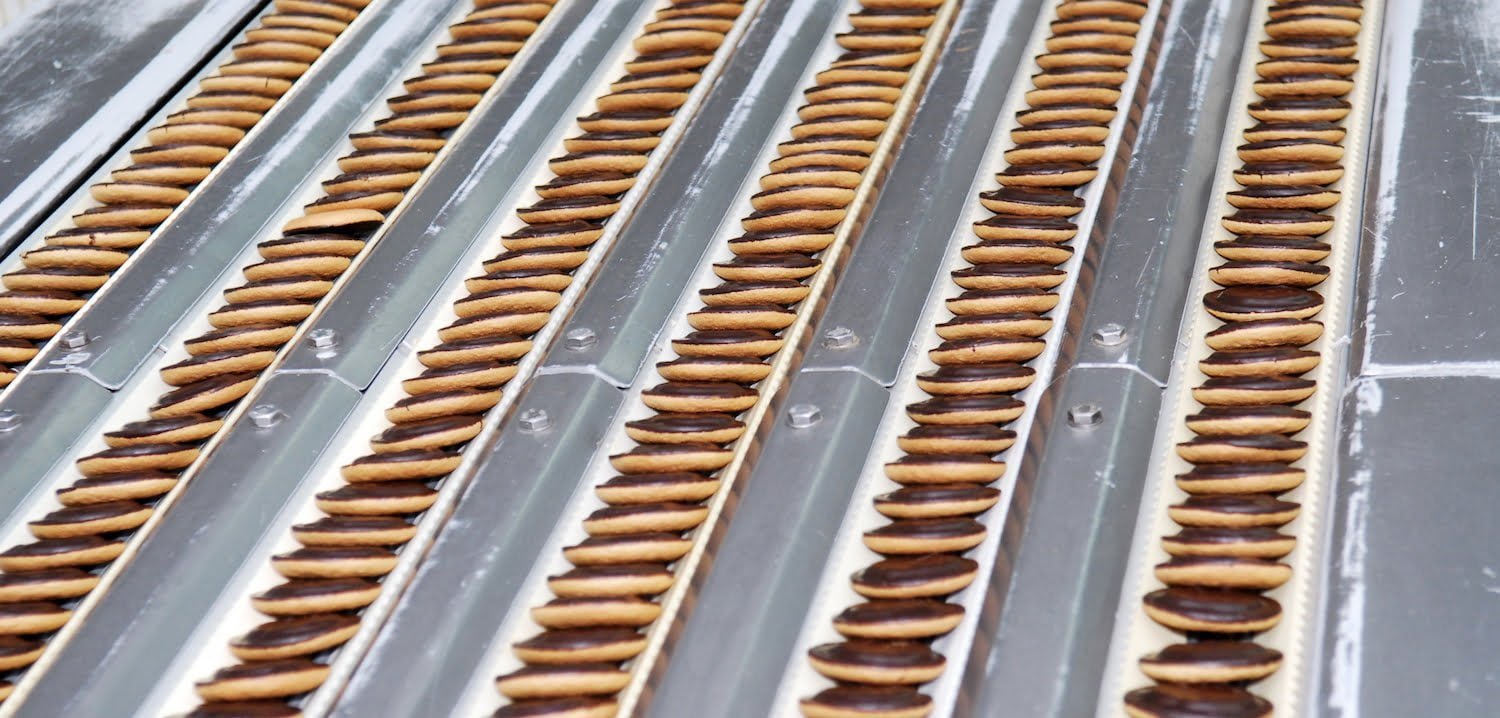 Customer Ask: High-Speed Conveyor Sensing
The customer makes a small, dark colored, food product in large quantities each day that is conveyed to packaging through use of twelve high-speed conveyors. When one of these conveyors jams, product spills over to the floor. The customer needs to be able to to detect the amount of product on each conveyor and send a signal back to the drive controlling the conveyors when the product gets too high.
Application Requirements:
A sensor to replace the faulty photoelectric sensors that were causing problems
A non-contact sensor, because they produce food product
A sensor that works in proximity mode
The sensor must not be affected by change in color
A sensor that can "see" dark colors
A sensor able to sense irregular surfaces
Sensor must be able to use 120VAC as no DC power is available
A sensor that could be easily mounted to the conveyor at a range of 3 to 4 feet
On/off detection with solid state outputs for maintenance free unlimited life-span
The Migatron Solution
In addressing the client's specific needs, we found that the RPS-450-72 would meet all the requirements necessary to solve their conveyor problems. A self-contained ultrasonic proximity sensor powered by 120VAC with a 30mm barrel style housing, not only replaced the faulty photoelectric sensors, but provided a non-contact solution for producing food products that does not require DC power. The RPS-450 is range sensitive, enabling the sensor to detect only those objects within the desired range and rejecting all other objects.
Did You Know:
Some of the unique advantages of ultrasonics that make it "the technology that works" are:
Migatron Ultrasonic sensors are high in gain and can detect a target as small as a 0.40″ wire
Ultrasonic sensors can detect targets over long ranges up to 20 feet, while capacitive and inductive sensors do not
Ultrasonic sensors can detect materials that are transparent, solid, liquid, porous, soft or any color
Learn More
Customer Satisfaction
The customer has purchased 50 sensors to date. These have worked perfectly for over 18 months. The customer has decided to standardize on Migatron's ultrasonic sensors, exclusively.
The sensor's range LED indicator illuminates red when the target is being detected. The customers found this to be a real time saver during set-up. The RPS-450-72 provides the customer precise proximity sensing, regardless of the color, density or transparency of the target.
The RPS-450-72 Features:
A non contact ultrasonic sensor that is perfect for the their food product application
A sensor that is impervious to target material, surface or color, solving their sensing problems with changing colors, dark colors, and irregular surfaces
A narrow sensing beam as required
A power input of 120VAC matching their available power supply
Easy mounting because this is a self contained stud mount sensor
A sensing range of 10" to 72" this will allow the customer to mount the sensor 3-4 feet from the target area as desired
A high frequency of 150Khz, which will eliminate false triggers due to ambient and background noise.
A solid state sensor that has a virtually unlimited life-span and maintenance free