RPS-401A, RPS-426A
Analog Ultrasonic Sensors
RPS-401A in Plastic Housing
RPS-426A in Stainless Steel Housing
Adjustable Zero & Span
Various Sensing Ranges
Narrow Sensing Beam
LED Strength Indicator
Short Circuit Protected
Reverse Polarity Protected
Analog Current & Voltage Outputs
Inverted & Non-Inverted Outputs
Self Contained Barrel Housing
Input Voltage 20 – 30 VDC

GET A QUOTE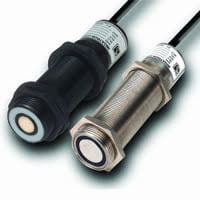 About the RPS-401A, RPS-426A Sensors
The RPS-401A, RPS-426A analog ultrasonic sensor is mounted in a barrel housing and is completely self contained. It is powered by 20 – 30VDC and is reverse polarity protected. It also has a narrow beam angle which enables it to get into tight places. A flat target can tilt up to 8 degrees and still be detected. The RPS-401A, 426A has 2 short circuit protected analog outputs, 4 – 20mA and 0 – 10 VDC. These outputs can easily be inverted and can be scaled over almost any range by means of adjusting the zero control (P1) & span control (P2).
For setup purposes a LED strength indicator is provided. This LED is Green when not detecting and fades to Red as a target moves into place, depending on how much reflected signal is coming back from the target. The frequency of operation for the RPS-401A is 175kHz for the 4 – 40″ and 150kHz for the 8 – 80″. The RPS-426A has an 8 – 80″ range and operates at a frequency of 150kHz. The RPS-401A barrel is constructed of PVC plastic, and the RPS-426A is Stainless Steel. The barrel measures 30mm x 104mm. A standard 6′ cable is provided, or a quick disconnect (QD) version is also available.
Operational Range:
40″ Models – Adjustable 4″ to 40″
80″ Models – Adjustable 8″ to 80″
Power Input:
20-30 VDC
Reverse Polarity Protected
Input Current:
90mA
Ambient Temperature:
0 – 60°C or 32 – 140°F
Humidity:
0 – 95% Non-Condensing
Housing:
RPS-401A – PVC with PVC sensing face
RPS-426A – 303 Grade Stainless Steel with PPS and
PTFE sensing face
Outputs:
Analog Current Sourcing Output
4 – 20mA Inverted & Non-Inverted
Load 0 Ohms to 500 Ohms

Analog Voltage Output
0 – 10V Inverted & Non-Inverted
Load 500 Ohms to infinity
Short Circuit Protected

Transducer Frequency:
40″ Models – 175kHz
80″ Models – 150kHz
Response Time:
40″ Models – 16ms
80″ Models – 35ms
Weight:
RPS-401A Models – 9 oz.
RPS-426A Models – 12 oz.
Ordering Information
| Part Number | Range | Output |
| --- | --- | --- |
| RPS-401A-40 | 4″ – 40″ | 0 – 10VDC and 4 – 20mA Analog |
| RPS-401A-80 | 8″ – 80″ | 0 – 10VDC and 4 – 20mA Analog |
| RPS-401A-40QD | 4″ – 40″ | 0 – 10VDC and 4 – 20mA Analog – Cable Sold Separately |
| RPS-401A-80QD | 8″ – 80″ | 0 – 10VDC and 4 – 20mA Analog – Cable Sold Separately |
| RPS-426A-40 | 4″ – 40″ | 0 – 10VDC and 4 – 20mA Analog |
| RPS-426A-80 | 8″ – 80″ | 0 – 10VDC and 4 – 20mA Analog |
| RPS-426A-40QD | 4″ – 40″ | 0 – 10VDC and 4 – 20mA Analog – Cable Sold Separately |
| RPS-426A-80QD | 8″ – 80″ | 0 – 10VDC and 4 – 20mA Analog – Cable Sold Separately |
| F32- 5001183 | | 2 meter Cable for QD version, M12 4-Pin 22 AWG |
| F32- 5001186 | | 5 meter Cable for QD version, M12 4-Pin 22 AWG |
Technical Information